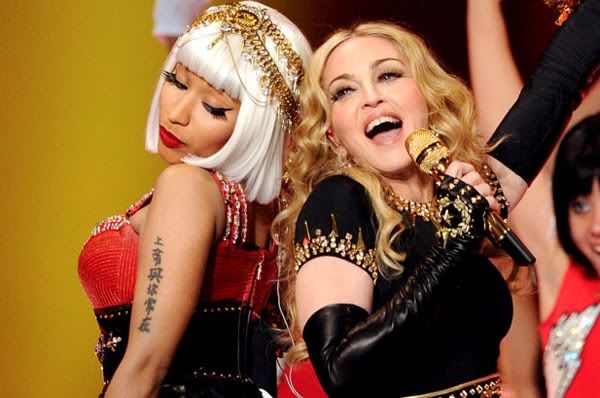 Take a listen to the Nicki Minaj-assisted 'I Don't Give A', which is lifted from Madonna's upcoming 12th studio album MDNA.
As if 'Give Me All Your Luvin' wasn't bad enough, Madonna and Nicki Minaj have teamed up yet again to beat the dead horse that is: juvenile dance-pop music.
Listen to the duo's second collaboration lifted from Madge's upcoming album 'MDNA' after the jump and sound-off below.
Madonna's lame attempts at rapping are worse than watching someone's middle-aged mother try to dip it low and pick it up slow at the local block party. It's embarrassing for everyone involved and totally unnecessary.
The nonsensical nature of the lyrics and half hearted vocal given by the alleged 'Queen of Pop' contrast against 'I Don't Give A"s stellar production jarringly so. It's obviously the song's focal point was production and autotune…how dare we assume vocals and intriguing lyrics would be the draw.
Queen or not, she's still not owning it. Despite the effort and everything else, the song still falls flat and more. 'M.D.N.A.' is set to drop in stores on March 26th.

The feisty break-up anthem is not as dancey as some of the stuff on 'M.D.N.A'. Backed by some hip-hop drums, Minaj tries to add some dancehall flavour with her flow, while Madonna spits venom at her failed marriage to former film-maker Guy Richie. It ends with some orchestral chants and Minaj finishing her line with: "there's only one Queen and that's Madonna, bitch".
Madonna was right by naming her album 'MDNA' as a [incorrect] play on the mind altering street drug of the same name. One would have to be bogged out of their mind to deem these tracks quality pop music worthy of a woman well into her fourth decade of global pop dominance. The reductive album is set to be released on March 23, 2012 by Interscope Records. Senior discounts unavailable.