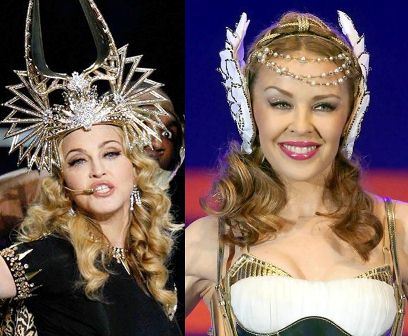 Madonna

may be "the queen of reinvention", but her style is anything but evolved, according to rival singer

Kylie Minogue

's stylist,

William Baker

.
As her stylist and "gay husband" of 17 years, Baker has been responsible for Kylie's own high (hit-or-miss) wardrobe turnover rate. He claims that she has transcended a fashion threshold that Madonna hasn't yet managed — a style that ages gracefully.
"Kylie's gone high fashion"

, he states.
Meanwhile, Baker reserves harsh words for Madge:
"Over the years her concert clothes have always been really interesting but I didn't think there was anything new this time.
"The camera shots of her are also still very crotch-centric and we've seen this all before," he said.
In our opinion, it is ironic that Baker critiques Madonna on the heels of an era that musically, commercially, and yes, style wise, many claim to be among Kylie Minogue's weakest. Fans and style critics have scorned her severely camp

Pierrot

and

Showgirl

costumes and the tacky visual concepts accompanying X's promotional regimen. And we can't help but mention that her "geisha" tour getup falls squarely into Madonna worship territory.

Remember Madge's own "Japonaise" phase a decade ago?
Contrary to what Baker suggests, while Minogue's

Gaultier

tour wardrobe was met with lukewarm reviews, Madonna's Riccardo Tisci's custom

Givenchy

designs were often praised– often more so than the music she performed at the shows! Perhaps Baker needs to read a bit more press — including his own. If he did, he might realize that, on the whole, Kylie's fans are sick of him.
Is Kylie's stylist criticizing Madonna's sense of style a case of the campy pot calling the kitsch kettle black? Or does he have a point?