Madonna rolls into Dublin next week to play the Aviva Stadium as part of her "controversial" MDNA world tour. She may have lost her power to truly shock a long time ago but what annoys Madonna haters the most is the fact that, at the age of 53, she keeps on keeping on, says Alan Corr.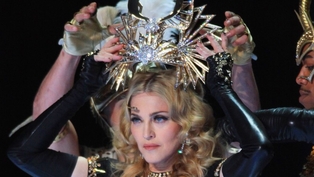 She's only two months into her MDNA world tour but already Madonna has cried live on stage, flashed the audience in Turkey, flashed the audience in Rome, made some silly statements about drug use, flashed the audience in Paris, and incurred the wrath of French far right leader Marine Le Pen by showing pictures of her face plastered with swastikas as part of the stage show.
Maybe it's all in a bid to make up for the lack of decent songs on her new album, but Madonna was at in again in Hyde Park the other night - dropping her drawers during a rendition of Human Nature. So the original of the species is back doing her utmost to annoy as many prudes and killjoys as possible and good for her. It's all good dirty fun to some people; tiresome attention seeking to others. However, as has been the case for far too long, some arbiters of bad taste have decreed that Madonna should no longer be allowed to (even try) playing shock tactics any more.
It's true that the last truly shocking thing she did was release the album MDNA but right now, Madonna haters are out in force. They hate the fact that she's made a cool $50 million in the first two months of her current tour and they've always hated the fact that she's an aggressively ambitious woman who has spent her career smashing barriers, glass ceilings, and taboos.
But what really gets them hating till it hurts is the fact that, at 53, Madonna plainly doesn't care what they think and has no intention of stopping. They may find her more boring than actually shocking but boy are they still mad and it's their very ire that seems to keep her going.
Madonna bashers seem to consider her an embarrassment to womankind and pop music in the same way that some feminists and music snobs were conflicted by her blatant careerism and sexual aggression when she first arrived thirty years ago.
Surely by now, they reason, she should bow to young pretenders like Lady Gaga and Nicki Minaj and drift off into proper old age performing torch songs at supper clubs. Some of Madonna's best moments are, indeed, torch songs (This Used to be My Playground, Live to Tell et al) and on the current tour, she's performing Like a Virgin as a mournful piano-and-violin ballad of lost innocence, an acknowledgement that perhaps the glory days are, indeed, over.
That won't placate the Madonna bashers. She keeps on keeping on, gyrating, dancing, running and singing all at the same time. There should be a bylaw against it! Madonna should not be allowed cavort in a built-up area. At any time of the day.
Forget the fact that Britney still can't kick-start her wayward career and that Gaga can't seem to leave the house without checking what Madonna's had for breakfast, this woman must be stopped!
The Daily Mail, no fan of Madonna (or any woman who doesn't meet their high moral standards), was also at it again yesterday. It ran a negative news report on her Hyde Park show while, in the same edition, running a mostly positive review of the same gig. The Mail said that "hundreds of fans" walked out of the concert, many complained about the poor sound quality, Madonna's bald cheek in not playing a greatest hits show, and the fact that the 10.30pm curfew rather took away from the visuals on the night.
All fair points but the paper also mentioned "public relations disasters" in Madonna's long career. Well those "public relations disasters" are in fact the very career flashpoints that have helped make Madonna the most successful female pop star of all time. That, and thirty year's worth of pretty great pop songs.
There was also this quote from a fan's Twitter account which once again depressingly reminds us that ageism will always rear its ugly head when it comes to female pop stars and actors of a certain age: "When Madonna has concerts in her 50s where she strips herself on stage, you know her career is as dead as myspace."
It's perfectly fine to gaze with fond bemusement at The Rolling Stones doing their priapic peacock thing (well, Mick anyway) or smile as the parchment-faced Steve Tyler (64) coos over another babe young enough to be his granddaughter. It's also fine for Anthony Kiedis (nearly 50) and co to play their old hits like they're still strung-out teenagers but when it comes to Madonna, all you're likely to hear is "put it away love!"
Twenty years ago in an interview (with Jonathan Ross no less) Madonna had these fine words to say: "I think that not only do we suffer from sexism and racism, we also suffer from ageism, that once you reach a certain age you're not allowed be adventurous, you're not allowed to be sexual and I think that's rather hideous. People say, oh I hope she's not still doing that in ten years. Who cares? What if I am? Is there a rule? Are you supposed to just die when you're 40? "
After performing a two-hour set in Hyde Park this week featuring many costume changes, much dancing and much theatrics, the soon to be 54-year-old Madonna ended the night with a speech about the dangers of discrimination and prejudice.
Let's hope the Madonna bashers are listening in Dublin next week.
Alan Corr
http://www.rte.ie/ten/2012/0719/blog_music_madonna.html