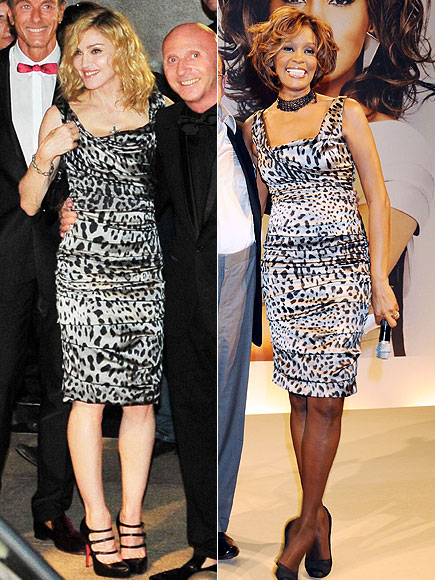 Just as they did during the '80s and '90s,
Whitney Houston
and
Madonna
again share space in the
Billboard Hot 100
's top 10.
With late legend Houston's "I Will Always Love You" returning to the tally at No. 7 and Madonna's "Give Me All Your Luvin'," featuring Nicki Minaj and M.I.A., rising 13-10, Houston and Madonna concurrently rank in the top 10 for the first time in more than 16 years.
The pair last charted in the top tier together the week of Jan. 27, 1996, when Houston's former No. 1 "Exhale (Shoop, Shoop)" held at No. 2 (for the ninth of its 11 frames at the runner-up spot after its lone week at the summit) and Madonna's "You'll See" rebounded 10-8 after peaking at No. 6.

Over their iconic careers, the twosome held court in the top 10 together with multiple sets of prior hits.
In fact, the week of Houston's first top 10 appearance - July 6, 1985 - when "You Give Good Love" rose 13-7, Madonna ranked at No. 10 with "Angel" (5-10). In a harbinger of their future pop culture impact, the then-budding superstars were the only solo women in the top 10 that frame, although Eurythmics' "Would I Lie to You?" (No. 6) and 'til Tuesday's "Voices Carry" (No. 9) each featured female lead singers (Annie Lennox and Aimee Mann, respectively).
Coincidentally, in both their first week in the top 10 together and their latest, Houston placed at No. 7 and Madonna, No. 10.
POWER OF TWO:
Two additional Hot 100 chart weeks serve as an even shinier reflection of the divas' dominance when their singles releases were automatic, surefire hits.
On the May 24 and 31, 1986, chart weeks, Houston's "Greatest Love of All" and Madonna's "Live to Tell" ranked at Nos. 1 and 2, respectively. The frames mark the only weeks that the pair claimed the Hot 100's top two spots.
(Houston graciously stepped aside the following week (June 7), as "Love" dipped to No. 3 and "Tell" took over at No. 1).
That "Love" ranks on this week's Hot 100, re-entering at No. 41, clearly reinforces the timelessness of the song - and Houston's everlasting appeal.
'LIKE' NEW:
There's more luvin' for Her Madgesty this week, as her classic "Like a Prayer" enters Digital Songs at No. 38. After she performed it as part of her Super Bowl halftime extravaganza Feb. 5, it surges by 172% to 49,000 sold, according to Nielsen SoundScan.
The track debuted on the Hot 100 - also at No. 38 - the week of March 11, 1989. It went on to become the seventh of Madonna's 12 No. 1s five weeks later.